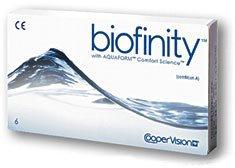 Contact lens wearers who suffer from dry, fatigued, or irritated eyes can find relief through the new lens technologies and materials available at Plymouth Vision Center. We provide leading brands of contact lenses including Acuvue Oasys, Acuvue TruEye, Biofinity, Ciba Vision Dailies, and Proclear.
These new contact lenses can help keep your eyes fresh and comfortable, almost like you're not wearing contacts at all. Get fitted for these lenses and you'll notice:
Smooth, moist lens surfaces
Unbelievably clear, sharp vision correction
A more natural feel, even after hours of wear
Reduced eye redness and healthy-looking eyes
All-day/all-night comfort
Very little lens dryout, even in arid or dusty conditions
Your eyes can feel dry and tired in challenging environments, inside or out. The ACUVUE® OASYS™ Brand Family, featuring next generation HYDRACLEAR® Plus** silicone hydrogel technology, help keep your eyes fresh and comfortable. Contact lenses with patented HYDRACLEAR® Plus are so smooth and wettable, like the natural eye, they feel almost like you're not wearing contacts at all. Oxygen transmission built into ultra-smooth, more wettable lenses means extra comfort and less lens dryness, even in tough surroundings that might dry out other lenses.
Lenses stay moist and comfortable all day long
Helps keep your eyes clear, white and healthy looking
Unique, naturally water-loving material
Patented Aquaform® technology
Biofinity is a high performance silicone hydrogel soft lens which utilizes AQUAFORM® Comfort Science, an innovative material to provide many benefits including:
High oxygen performance helping to keep eyes white and healthy
Soft and moist lens material for excellent all day comfort
Round lens edge for great comfort
Aspheric front surface delivers sharper vision
Biofinity is different from other high oxygen lenses because it is naturally wettable and establishes hydrogen bonds with water molecules holding water within the lens making the lens soft, wettable and resistant to dehydration and resistant to deposits.
Biofinity's unique silicone monomers mean that oxygen is transmitted very efficiently through the lens. The result is a lens with very high oxygen transmission AND a high water content—the high water content makes a softer, comfortable wearing experience.
Biofinity is suitable for any wearer who is looking for excellent health and comfort from a lens. In addition to being ideal for new wearers it is also an ideal upgrade for existing wearers who want better lens performance.
Call Plymouth Vision Center today for a consultation today at 763-559-4669.
Office Hours

*Open 1st and 3rd Saturday of the month Closed 2nd and 4th Saturday of the month
Interactive Eye
At Plymouth Vision Center, we believe it is important to keep our patients educated about healthy vision. Learn more about the anatomy of your eye with our Interactive Eye! Click and learn more.
Learning Resources
Knowing what it takes to maintain healthy vision is important. As leading eye health providers, we have selected the resources in this section of the website to educate our patients about eye health, eyeglass lenses and frames, and contact lenses. We are committed to protecting your eyesight.