What We Do
At Plymouth Vision Center, you will find an experienced and helpful team of eye care professionals dedicated to meeting your eye health needs. We recognize you have a choice for your eye care professional and thank you for choosing us to care for your vision needs. We invite you to refer your friends and family to our eye care office.
Our Mission
Our mission is to exceed the expectations of our patients by providing exceptional eye care services. We strive to share our expertise with each patient to inform them of all aspects of their visual health, preventative eye health, and eye care products. Above all, we believe that every person, patient and staff, who steps foot in our office, should be treated with respect, and should leave our office feeling valued.
Our History
Plymouth Vision Center was established on June 1st, 1999 by current owner, Thomas Sandberg. With the support of family, a business degree, and his experience in optical sales and services he was able to open his doors at Plymouth Station, located on Hwy 55 and County Rd 24. As a small business in a growing community, Plymouth Vision Center was able to take root and grow through the support and loyalty of its customers in Plymouth and surrounding communities. The growth included an increasing product line of the latest, up-to-date glasses and sunglasses, new employees, and offering comprehensive eye exams a couple days a week.
In April 2011, Dr. Tate Herman joined the practice, and later that same year in August, Plymouth Vision Center moved a couple hundred yards across the parking lot to its location next to Panera Bread. The move provided more room to grow, a larger, more personal reception area, and a much larger optical. Dr. Herman became partner in July 2012, and began offering exams full-time, while Tom worked on expanding and merchandising the large selection of frames and sunglasses offered to our patients.
Plymouth Vision Center continues to evolve. In March 2021, the practice relocated to an even larger location inside the Plymouth Medical Building, located at 3007 Harbor Lane North. We offer comprehensive exams with retinal imaging, contact lens exams, and contact lenses. We except nearly all medical and vision insurances, and continue to offer professional, courteous service to all our customers. We have a friendly staff, ABO certified opticians, as well as another optometrist, Dr. Nadia Khan, who joined the practice in November of 2017.
We offer our thanks to all of our customers who have helped us get to where we are today and we appreciate you choosing us to provide all of your vision needs! We welcome new patients and the opportunity to serve you as a small business in this wonderful community.
I always have a great experience here with Dr. Herman and staff. Everyone is kind and welcoming and with the response to reopening during COVID19 they are going above and beyond to make their clients feel safe while being served.
Linda V.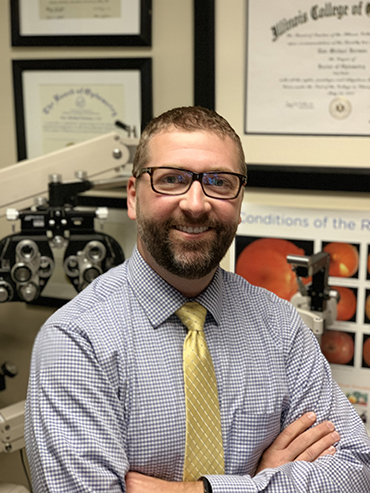 Dr. Herman
Dr. Herman is originally from Chamberlain, SD and is currently living in Plymouth, MN. He graduated in 2003 from the University of South Dakota with a B.S. degree in Biology with Mathematics and Chemistry minors. He received his Doctorate of Optometry degree from the Illinois College of Optometry, where he graduated Cum Laude in 2007. 
Dr. Herman enjoys spending time with his wife, Renae, his family, and his friends. He is an avid sports fan, who likes to golf and fish whenever he can. He also enjoys doing home improvement projects. He is a member of both the American Optometric Association and the Minnesota Optometric Association, where he currently serves as trustee.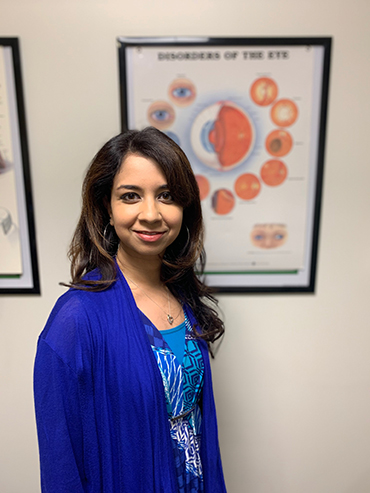 Dr. Khan
Dr. Nadia S. Khan joined Plymouth Vision Clinic in November 2017 as an Associate. Dr. Khan provides comprehensive eye care with a special interest in the management of glaucoma, diabetic retinopathy, Lasik, and dry eyes.
Dr. Khan grew up in Houston, Texas. She graduated Magna Cum Laude from the University of Houston with a B.S. in Biology followed by her optometry degree from the University of Houston College of Optometry in 2006. She practiced in Texas for two years at a private practice before moving to Minnesota in 2008.
Dr. Khan resides in Plymouth along with her husband and two kids. She's an active Wayzata PTA mom at Kimberly Lane and now Meadow Ridge Elementary. She enjoys traveling, yoga and photography.